Ha! I say that as though I've actually been missed!
You know the old song, "Even in the valley, God is good. . ."?
Wow! The valleys I've gone through lately, the mountains I've climbed, and now, I'm at the peak, looking down & seeing all of God's glory through it all!
I won't bore you with the details, especially since they really don't even seem important now. . .just know that I'm so thankful that I have my health, I am so thankful that God gives his wisdom to others to use, I am so thankful for healthy kids and a wonderful hubby (even though his mood hasn't been too great lately).
I'm blessed with "Mommy days" to share with my Princess, and with my Kindle download so that Tyler & I can read the same book together : )
I'm blessed that I can be back at church. . .the crud and a nasty sinus infection really had me down for a while. (I'm also blessed that God gave us antibiotics!)
And I'm really blessed that the most recent full moon is behind us and that we have a vacation day coming up next week--the kids and I need a break from each other!!!
I'm also extremely blessed to have a new member in my family. One that I have prayed about for four years and that Randy has adamantly said "no" to. We finally adopted two weeks ago and we are all so head-over-heels in love that it really isn't funny.
Here's a photo of our new baby girl: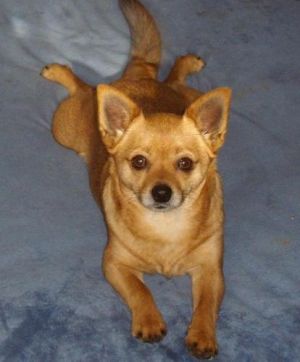 Her name is Tippy. She's wonderful. Just wonderful.
Life is good.
No. . .with God, life is Grand!!